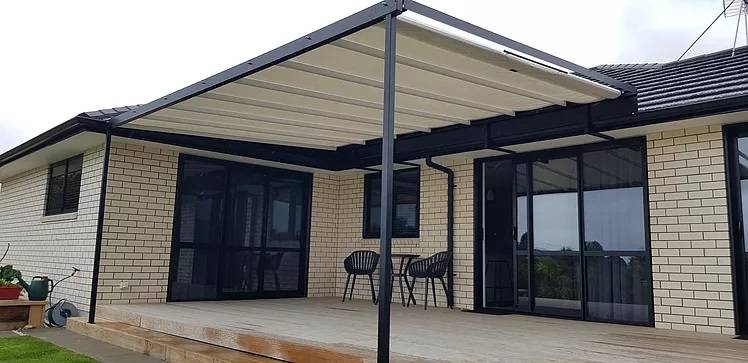 When you need all weather protection - but also want to see the sun and stars.
Sunwise Awnings are a fully retractable, manually operated awning system. The roller system which slides in specially designed and extruded aluminium channels is self braking meaning the awning can be stopped in any position. It is mounted on aluminium poles and soffit brackets. All the aluminium can be powder coated to match the house.
​The system gives the versatility of having a fully waterproof, shaded area or of being able to retract the awning so the house is not shaded when it is not in use. Sunwise awnings provide an excellent multi purpose outdoor living space which can provide for sun and rain protection or be opened up to see the sun and stars.
Sunwise Awnings are New Zealand designed and manufactured and operate on a fully patented system which allows you to transform your outdoor area in seconds.
Sunwise Awnings are quiet in operation and quiet when it rains. The PVC provides a soft buffer for environmental pressures. The PVC covers, which carry a 10 year warranty, also reflect heat so provide a cool living area on hot summer days.
Visit the Sunwise Awnings website here.